Mini Translator
Mini Translator designed to produce easy to read formats out of EDI data files.
Simply called "Mini" translates EDI into CSV or Excel.
Features
Translates EDI X12 files into flat CSV or Excel files
Takes EDI loops and converts them into table format
Basic EDI X12 translation is easy to setup
Does not require complex setup for trading partners, enveloping or orchestrations
Program is small and easy to install
Performs basic EDI validation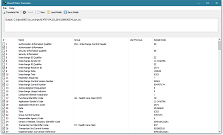 Included Tools
GUI based translator
Command line translator
For Windows
Mini Translator version 5.1.1, 3.1Mbt .exe file. 20 day trial.
Windows: 64bit XP/2008/2012/Vista/7/8/10
For Linux
Mini Translator version 5.1.1, 2.6Mbt .zip file. 20 day trial.
Linux: 64bit Debian, Ubuntu
Documentation
Beginners Guide to EDI X12 (including HIPAA) PDF file
Mini Translator 5.x Users Manual PDF file